Advanced Verruca treatments in Derby
Butterworth Podiatry has always been at the forefront in using advanced technology to treat conditions pertaining to your feet. We are HCPC registered and are committed to treating verruca and other related foot problems in a reduced treatment time.
WHAT IS SWIFT®?
Swift is a new technology, developed in the UK, which has been licenced for the general treatment of skin lesions in podiatry and dermatology. Swift uses microwave energy which is delivered through a special probe applied to the skin to treat the affected tissue.
DOES IT HURT?
Like many treatments for skin lesions, some discomfort may be experienced. Before treatment your podiatrist or dermatologist may decide to reduce the lesion with a blade. Pain levels vary from person to person but most people undergoing Swift liken it to a pain similar to an injection or a scratch, lasting 2 – 3 seconds then quickly subsiding.
WHAT CAN I DO AFTER TREATMENT?
In some cases the treated area may feel tender, but will not prevent you undertaking normal daily activities. Dressings are not required and there is no need to keep the foot dry or to rest.
HOW MANY TREATMENTS WILL I NEED?
This is dependent on how you respond to treatment. In most cases, you may need more than one treatment (these are usually spaced 4 weeks apart depending on the response). Your podiatrist or dermatologist will be able to discuss this with you.
CAN ANYONE RECEIVE THIS TREATMENT?
With a few exceptions, most people with skin lesions would be able to have this treatment. Your podiatrist or dermatologist will carry out an assessment prior to treatment and be able to advise you on this.
HOW MUCH DOES IT COST?
Swift Verruca treatment costs £100 per session. In most cases, you may need more than one treatment. Please contact us to discuss your individual requirements.
Effective treatment for Verruca
Swift is a new technology with proven high efficiency and the team at Butterworth Podiatry are focussed on providing the best possible treatments for our patients.
Treatment is quick, clean and easy for both clinician and patient, reducing treatment time as compared to alternative verruca treatments, which are often lengthy, unreliable, painful and can cause significant damage to the skin.
If you need a consultation with experienced and qualified podiatrists in Derby, visit Butterworth Podiatry.
Find out more about Swift Microwave therapy here
Before Treatment
Pain level of 7/10
3 SWIFT treatments
Pain resolved completely within 2-3 weeks
After 4 weeks
(4 weeks after 1st treatment)
After 6 weeks
(2 weeks after 2nd treatment)
After 6 months
(18 weeks after 3rd treatment)
Mrs S from West Sussex in the UK had suffered with persistant verruca for over 10 years, affecting her walking and every day life.
"My verrucae have all cleared up and I can see pink for the first time in years! No more pain, no more costly ineffective treatments and no more hopelessness! I can't tell you what this means to me!"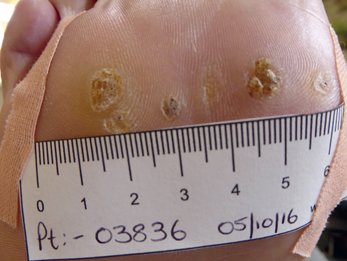 Address
Butterworth Podiatry
203 Burton Road
Derby
DE23 6AE
Business Hours
Monday to Friday – 08:00 AM to 06:00 PM
Saturday – 9:00 AM- 12:00 PM
Sunday - Closed